The Magic of Dreadlocks
Life is too short for boring hair, isn't it? For those with a love for eccentric styles and a flair for uniqueness, dreadlocks become a choice of personality expression. And what better way to keep your dreadlocks looking as fabulous as you are than a top-notch dreadlock salon? We'll be taking you through an exciting journey of the ins and outs of dreadlock salons. It's time to rock those locks!
Searching for "dreadlock salon near me" or "dreadlocks salon near me," is like looking for a needle in a haystack, isn't it? Well, fret not, because finding the perfect dreadlock salon near you might be easier than you think.
Obviously,  you choose a salon based on your need and objective.
WHAT TO EXPECT FROM A DREADLOCK SALON
DIFFERENT TYPES OF DREADLOCK STYLES
You create dreadlocks by matting or interlocking hair. They are created in a variety of ways, and there are many different styles to choose from.
HERE ARE SOME OF THE MOST POPULAR TYPES OF DREADLOCK STYLES:
Classic dreadlocks: This is the most common type of dreadlock style. You backcomb or twisting the hair until it forms small knots. The knots then mat together to form larger dreadlocks.
Freeform dreadlocks: Surprisingly, Freeform dreadlocks are created by letting the hair grow naturally and mat together on its own. There is no need to backcomb or twist the hair, and the style is allowed to develop naturally.
Twisted dreadlocks: Twisted dreadlocks on the other hand are created by twisting two or more strands of hair together. The twists can be left loose or braided together.
Braided dreadlocks: Braided dreadlocks are created by braiding the hair into cornrows or other braids. The braids can then be left loose or tied up.
Short dreadlocks: Short dreadlocks are a popular choice for men and women who want a low-maintenance hairstyle. subsequently, You can style Short dreadlocks in a variety of ways, including cornrows, twists, and buns.
No matter what your style, there is a type of dreadlock style that is perfect for you. Experiment with different styles to find the one that you love the most.
DREADLOCKS FAQS
1. How often should I visit a dreadlock salon?
This is subjective and depends on your hair type and the condition of your dreadlocks. We recommend you visit a salon every 4 to 6 weeks for maintenance.
2. Can dreadlock salons fix damaged dreadlocks?
Yes, many salons offer services to repair and revive damaged dreadlocks.
3. What should I look for in a dreadlock salon near me?
Look for salons with experienced stylists, good reviews, and a wide range of services.
4. Are dreadlock salons expensive?
The cost can vary greatly depending on the salon and the services required. It's best to inquire beforehand.
5. Can I color my dreadlocks in a salon?
Absolutely! Most salons offer coloring services for dreadlocks.
6. How can I find the best dreadlock salons near me?
Use online search engines, check reviews, and ask for recommendations from people with dreadlocks. also you can book you appointment with Nefertiti Hair Salon and we love to over any questions with you.
CONCLUSION
At the end of the day, the choice of a dreadlock salon comes down to personal preference and comfort. Take your time, do your research, and you'll surely find the "dreadlock salon near me" that you've been looking for. Your dreadlocks are a part of you, a bold and beautiful expression of who you are. So, give them the care they deserve, because, after all, you're worth it!
At Nefertiti Hair Salon, you can also explore all the other styles we have for you. whether natural hair, Twists, or braids. Book today.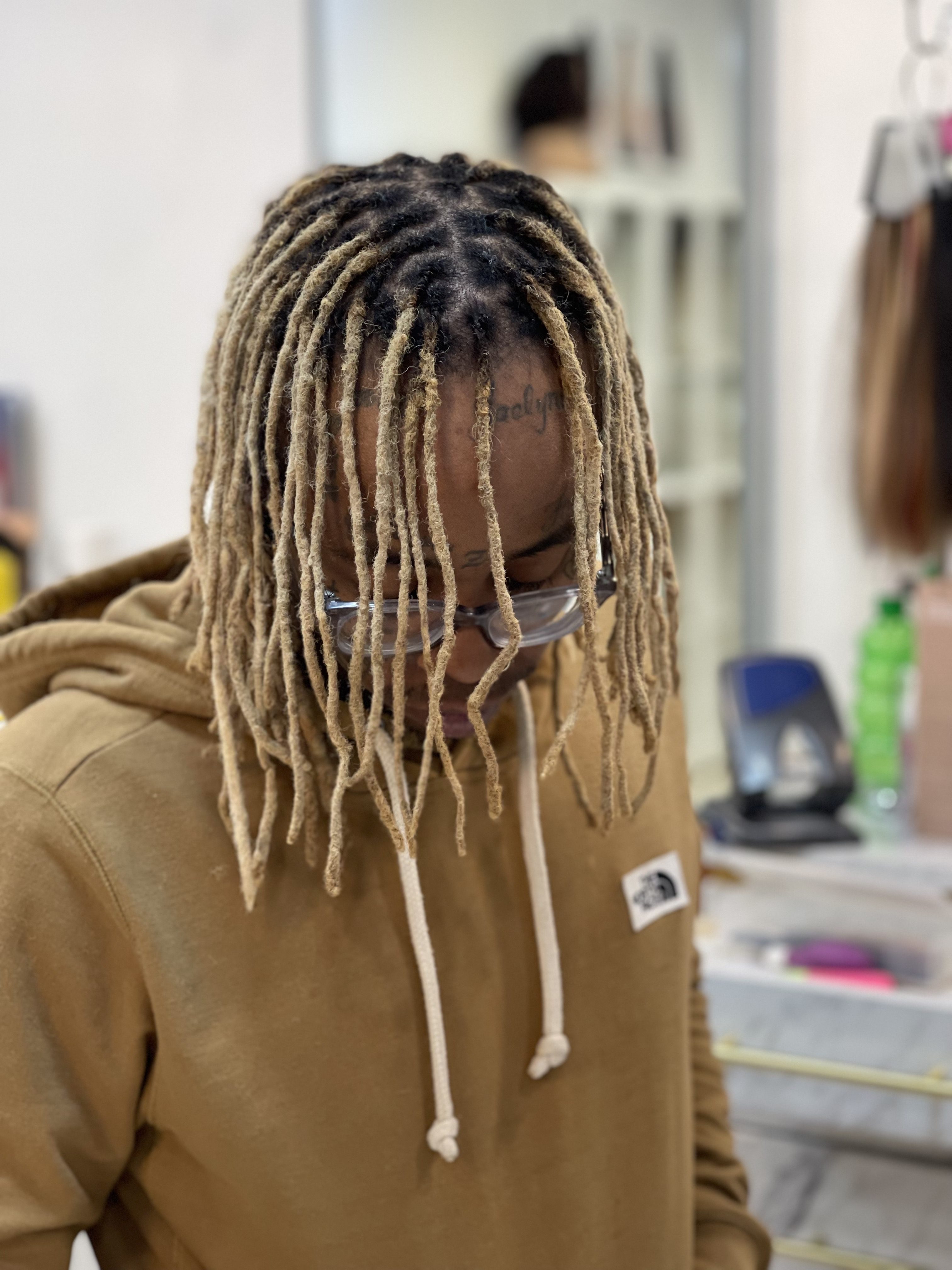 Additional tips for choosing a dreadlock style:
Consider your hair type. Dreadlocks work best with coarse, textured hair. If you have fine, straight hair, you may want to consider a different hairstyle.
Consider your lifestyle. Dreadlocks can be a high-maintenance hairstyle. If you are not able to wash and style your hair regularly, you may want to choose a different style.
Consider your budget. Dreadlocks can be expensive to maintain. If you are on a budget, you may want to consider a different style.
By following these tips, you can choose the perfect dreadlock style for you.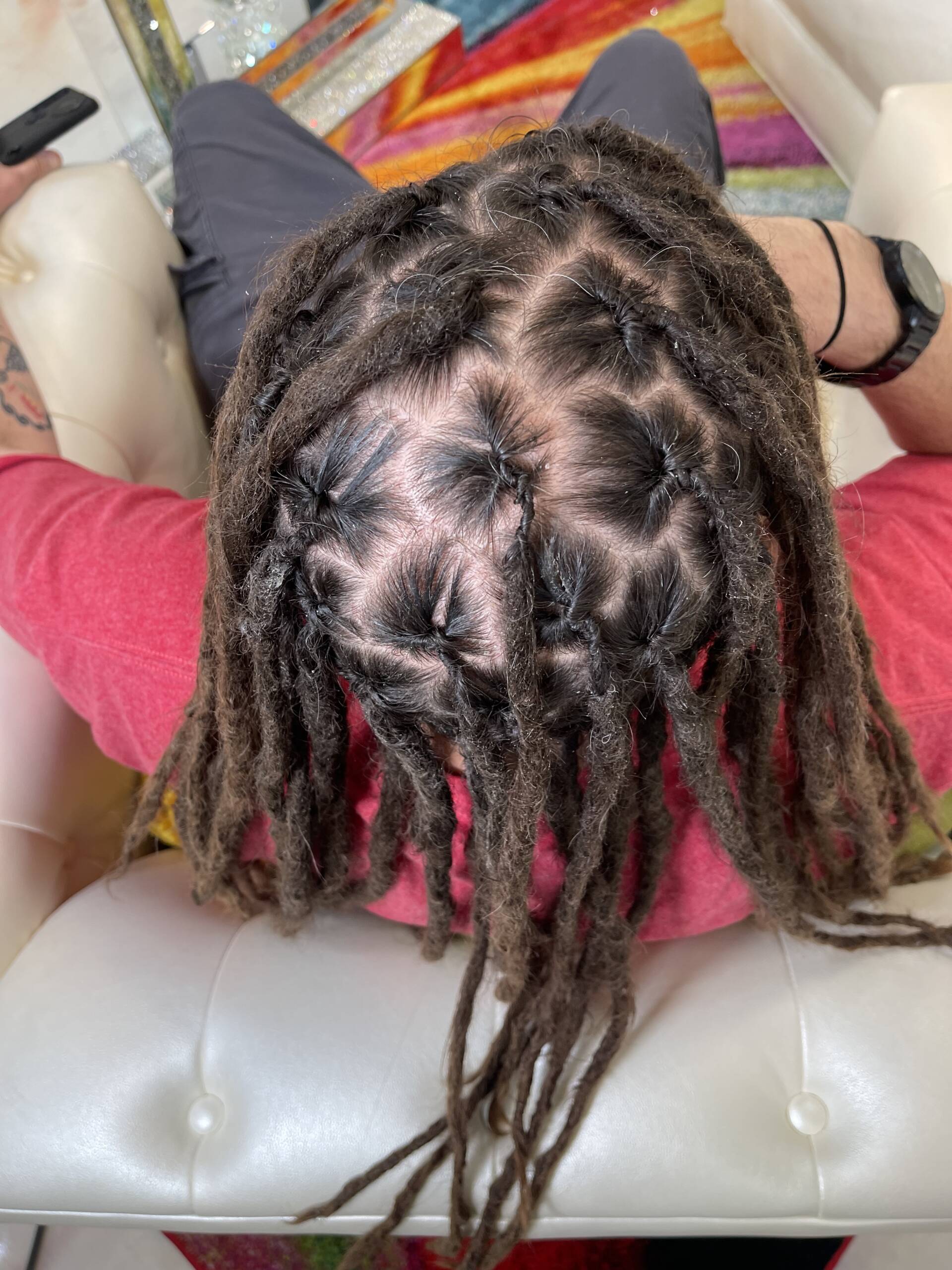 Dreadlocks Maintenance
We've all heard that dreadlocks are high maintenance. But you know what? It doesn't have to be a headache. Here's what a top-notch dreadlock hair salon should offer.
Refreshing Dreadlocks
Salons are not just about the looks; they're about keeping your locks healthy too. A good dreadlock salon will offer services to refresh your dreadlocks, ensuring they remain in top condition.
Styling Dreadlocks
Life's too short to stick with one style forever. An ideal dreadlock salon should be able to style your dreadlocks in numerous trendy ways, making you the talk of the town